You may renew your account by choosing one of the following ways: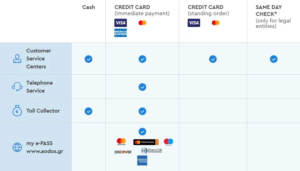 *payble to "Attiki Odos S.A."
In the network of collaborating banks/businesses: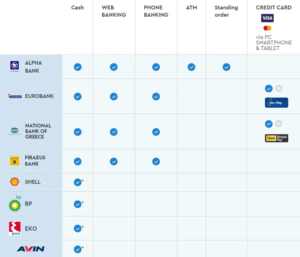 (Payment costs are set and withheld entirely by financial institutions/companies)
*The renewal requires the presentation of the e-PASS electronic device.
Renewal by phone
In real time
No commission
Safety guaranteed (through the online transaction processing platform of Bank of Piraeus)
Call 30 210 6682222 (Telephone Customer Service of Attica Tollway) and top-up in real time your e-pass account by charging your Bank Card (debit, credit, pre-paid Visa or Mastercard issued by any Bank and American Express).
Moreover, when using the interoperable road network, renew your e-PASS by phone during your trip (as there is no such possibility at the toll stations of other motorways).
Telephone Customer Service: 302106682222
Opening hours: Monday to Saturday 08:00-19:00
my e-PASS mobile app
for Android & iOS smartphones and tablets.



Download the FREE app, my e-PASS, from play store or app store, so that you can:
Check the balance of your subscription account, based on its latest update by the system
Be informed about all means of renewal/payment of your subscription account
Refresh by telephone your subscription account by using your bank card via the Telephone Customer Service
Be informed about the locations on Attica Tollway where you can renew your account
Be informed about accessing the Customer Service Centers on Attica Tollway and their opening hours
Be connected with the Telephone Customer Service of Attica Tollway for any information or update and send your e-mail addressed to the customer service of Attica Tollway.
For any further information, please contact us:
e-mail: [email protected]
Τel.: 30210 66 82 222 (Monday – Saturday,  08:00-19:00)
How can I terminate my subscription?
You may terminate your subscription at any time, by submitting a written request at any of the 12 Customer Service Centers on Attica Tollway, Moreas Motorway or at the Vehicle Inspection Center "I. KTEO Komvos Amarousiou" which is located off the Attica Tollway. In this case, you must produce your Police Identity Card or your passport and return the e-PASS device or the special account card, in working condition, and you will be refunded the balance of your account, if any.
*For corporate accounts, a proxy stamped and signed by the legal representative is required.