The toll system implemented at Attica Tollway is of open-type with a single charge for all routes. That is, drivers pay tolls only once, when they enter the Tollway.
This helps relieve the traffic problems of short distance journeys, enabling the Tollway to absorb a large proportion of the traffic travelling across the Athens basin, thereby accomplishing the objectives set before construction by the Hellenic Ministry for the Environment, Physical Planning and Public Works (the current Ministry of Infrastructures, Transportation and Networks).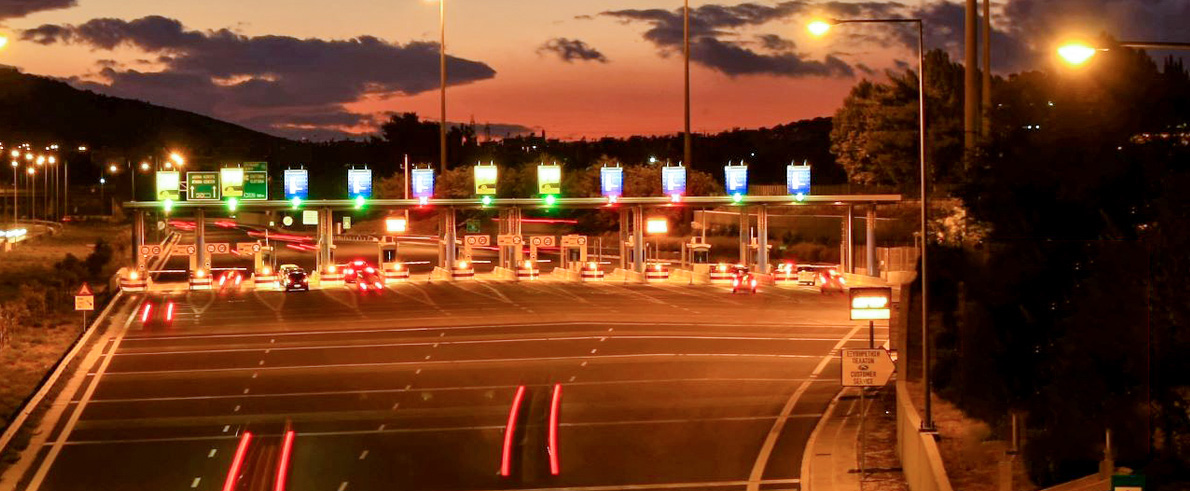 Ways of payment at the toll stations
Cash at the toll lanes operated by a toll collector
Bank card except DINERS & AMERICAN EXPRESS at the toll lanes operated by a toll collector
Way of payment of the Non-payment form
Through bank deposit of the amount due, in one of the following banks:
As a justification for the deposit, please write only the registration number of the vehicle, in order for us to locate the deposit from the bank report and proceed with the payment.
The aforementioned bank accounts are ONLY used for the payment of the Non-payment Form and NOT for any future subscription account renewal, while they concern exclusively "Attiki Odos S.A.".
Τoll Rates
The toll rate for each vehicle depends on the vehicle category, which is determined based on its height and number of axles.
Vehicle categories and the respective toll rates are determined in the concession contract, as ratified by Law 2445/96.
The rates for drivers making cash payments are as follows:
Vehicle categories
Rates
Motorbikes

And two wheel motorcycles, one wheel per axle

1.40 €
Private Passenger Cars

And passengers cars with a small trailer and rack. Their height should not exceed 1.30m high over the first axle of two axles, or over 1.30m high over the third axle.



2.80 €
Light commercial vehicles

with more than 1.30m high over the first axle and total height 2.70m

2.80 €
Cars with trailers

up to 1.30m high over the first axle and over 1.30m high over 3 axles, as well as vans (under 15 seats)



2.80 €
Small & medium trucks

with a total height over 2.70m, with 2 or 3 axles, and large buses (over 15 seats)



7.10 €
Big Trucks

Total height over 2.70m, with 4 axles or more

11.30 €