Important note: The Companies "Attiki Odos S.A." and «"Attikes Diadromes S.A."» never and in any way request personal passwords that you use for your access to our online services. Therefore, the Companies declare that they bear no responsibility in case you share your personal data or codes in general. Please follow the official communication channels of our Company online and on Twitter.
Toll System
On the Attica Tollway, all toll stations are located at the entrances of the motorway, either frontally or side-facing. Drivers are required to pay only once, upon entering the motorway. The corresponding "toll charge" per vehicle category is the same at all toll stations regardless of day or time and the mileage that the driver will cover, making the biggest possible routes on the motorway more cost effective. At the same time, the Attica Tollway absorbs a large proportion of the traffic travelling across the Athens basin, covering a large part of the city's urban fabric. In total, there are 39 toll stations with 195 lanes (gates).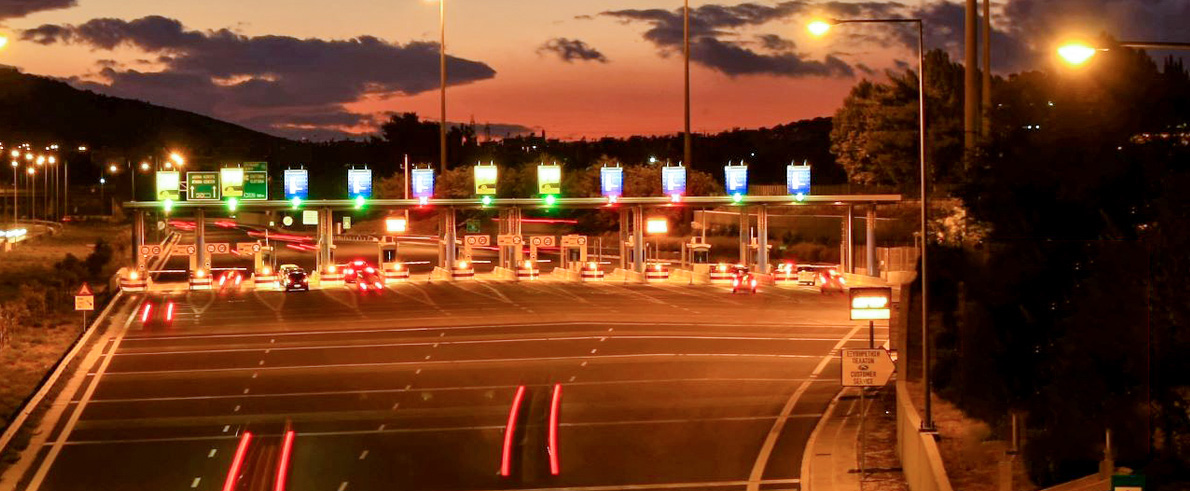 Methods of Toll Payment
By using an Account Card on a lane with a toll collector or by e-PASS on a lane with electronic toll collection lane (if you have an e-PASS device, it is possible to pay on a lane with a toll collector when you also renew your cash balance or when there is a technical problem in the electronic toll collection lanes)
In cash on a lane with a toll collector
By using a bank card in a lane with a toll collector (except DINERS and AMERICAN EXPRESS)
Ways of repaying the "Form of Non-Payment of Tolls"
By depositing the amount due to one of the following collaborating banks:
Please note that these bank accounts are ONLY used for the repayment of the "Form of Non-Payment of Tolls" and NOT for any future renewal of the subscription account, and that they concern exclusively the company "Attiki Odos S.A.".
In order for the Company to identify your payment in the bank report and to proceed with the repayment of the amount due, please indicate as the reason for the deposit the registration number of the vehicle that is present either in the "Form of Non-Payment of Tolls" or in the "Statement of Due Amount". Alternatively, you can enter the unique number of the "Statement of Due Amount", which you can find highlighted in yellow in the model document below (pdf).
Τoll Rates
The toll rate for each vehicle depends on the vehicle category, which is determined based on its height and number of axles.
Vehicle categories and the respective toll rates are determined in the concession contract, as ratified by Law 2445/96.
The rates for drivers making cash payments are as follows:
Categories
Cost
Motorbikes

Two-wheeled motorcycles, one wheel per axle

1.40 €
Private Passenger Cars

Private passenger cars, including passenger cars with a small trailer and rack. Their height should not exceed 1.30m over the first axle of two axles, or 1.30m over the third axle



2.80 €
Light commercial vehicles

With more than 1.30m high over the first axle and total height 2.70m

2.80 €
Cars with trailers

With a height less than 1.30m over the first axle and more than 1.30m over 3 axles, as well as and light buses (less than 15 seats)



2.80 €
Small & medium trucks 

of a total height of more than 2.70m with 2 or 3 axles and large buses (more than 15 seats)



7.10 €
Large HGV trucks

of a total height of more than 2.70 m with 4 axles or more

11.30 €