Our children are not just the next generation of drivers. With their responsible look, they make us better at all levels and often remind us of our obligation to drive responsibly and prudently on the streets. They urge us, in other words, to stay focused on what we ourselves teach them: "to respect speed limits", "to always say no to alcohol when driving", "to wear our seat belt even for short distances", "to use the pedestrian crossing" and so much more. For this reason, the fact that today the request to introduce as compulsory the teaching of Traffic Education in schools from primary school, is becoming an act of double value.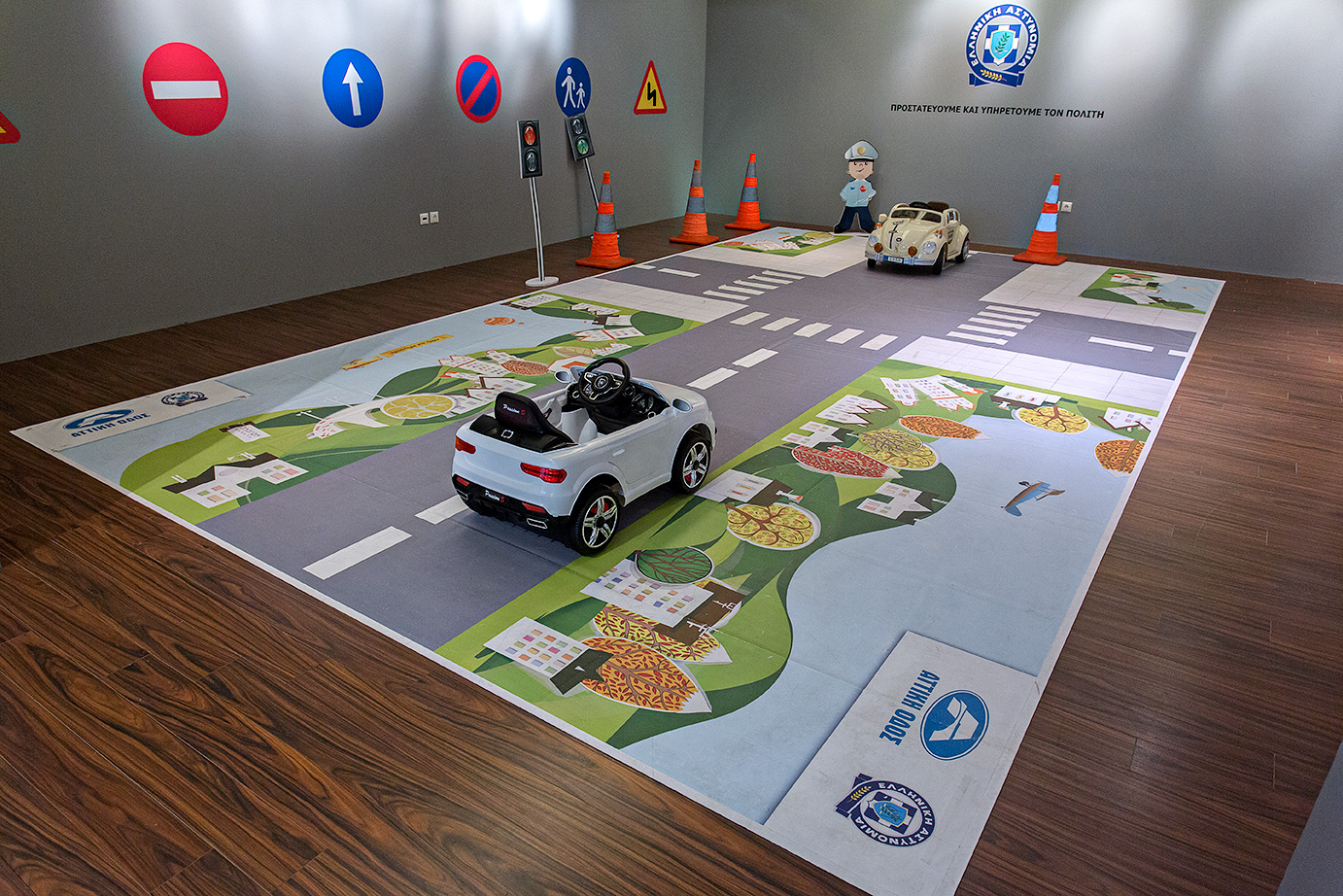 What is Traffic Education?
Traffic Education, a necessary pillar of Road Safety, is the formation of traffic awareness in order to act responsibly as drivers, as pedestrians, as passengers, as cyclists. And of course, education is considered an essential part of the integrated approach to Road Safety, as highlighted in a Report by the European Transport Safety Council (ETSC).
At what age should children be educated in Traffic Education?
Our children need to learn from an early age how to behave properly on the road as drivers, pedestrians, cyclists, be taught traffic rules and be informed about the legal and social consequences if they do not follow them, as underlined in the Report of the Special Permanent Committee on Road Safety of the Hellenic Parliament, in 2019. Also in another presentation of the same Report it is noted that there should be different stimuli and a different way of approach – learning per age group.
What is the purpose of Traffic Education?
Traffic Education through the initiation of children in the appropriate road behavior in a theoretical and experiential way, is a short and safe path to enable them, today, to protect themselves on the road while they bring us adults to our senses whenever we deviate from our own lessons and, tomorrow, to develop into conscientious drivers and conscientious road users.
With Traffic Education we contribute in many ways to a brighter today and tomorrow.
Let's talk to our children about Road Safety, by all appropriate means. Through games, through songs, through plays…
1. Traffic Education through Games
With three separate initiatives, Attiki Odos conveys important messages for Traffic Education to children and adolescents, through a fun experiential process.
"Eyes open on the Road": the e-Learning Edition

If your vehicle travels at 60 km/h, your weight is 60 kg and you crash, then according to the definition of momentum it is like weighing… as much as an elephant moving at 1 km/h!

This and other similar information, compose the content of a modern interactive experience "Eyes open of the Road": the e-Learning Edition which is accessible online. This is the evolution of the seminar under the same name created by Attiki Odos, which began with live presentations by a special instructor in schools around Attica. This time, the goal of the e-Learning version of the program for Middle School and High School students, which received the approval of the Ministry of Education and Religious Affairs and the Institute for Educational Policy (I.E.P.), is to reach the most remote areas and schools throughout Greece. So far, 15,000 teenagers have watched it.

"In Traffic with safety", in collaboration with the RSI "Panos Mylonas"


"Road and vehicles", "I walk on the sidewalk safely", "I stop, I hear, I see", "I cross the road safely obeying specific rules", "I play safely in my city" and "I behave properly as a pedestrian".

The Traffic Education Program "In Traffic with Safety", created in collaboration with the Road Safety Institute (RSI) "Panos Mylonas" and held in Kindergartens and Primary Schools with the approval of the Ministry of Education and Religious Affairs and the Institute for Educational Policy (I.E.P.) "speaks" about all these important issues. Through games, the Program aspires to anoint the next "Knights of Road Safety", while its impact is huge as to date it has been attended by more than 80,000 Kindergarten and Primary School children.

"I drive and walk safely", at the Children's Museum of Athens


On the ground floor of the Children's Museum of Athens, children and parents will find the new exhibit "I drive and walk safely" that promotes Traffic Education. An interactive environment with roads, sidewalks, crossings, traffic lights, traffic signs etc., through which children experience learning and exercise, while it helps them adopt safe ways of road traffic as pedestrians, cyclists, passengers or drivers. The exhibit is addressed to children aged 3 to 12 years and was designed by an interdisciplinary working group with the participation of educators and museologists from the Hellenic Children's Museum as well as transport specialists from the companies "Attiki Odos SA" and "Attikes Diadromes SA" and was implemented after a six-month study.
2. Traffic Education through songs
When the popular band Burger Project sets the pace for Traffic Education, our little friends respond with endless dancing, lively voices and lots of smiles.
"The Asphalt Trobadours" featuring the Burger Project Band


In the new Experiential Education Program of Attiki Odos, the musical theatre show "The Asphalt Troubadours", the band makes the children travel through enjoyable dialogues and songs with lyrics touching on many important issues that promote Traffic Education.

In this context, the children sing, among other things, about their favorite bike but also about the two "bright people" at the traffic light and learn to walk fast and very carefully with "Mr. Green Light" and wait patiently with "Mr. Red Light" while repeating verses that include many useful messages about Road Safety… We adults, from our side, experience once again the feeling we had when we saw our first bike and at the same time, we realize that Traffic Education of every young rider must be a personal affair for all of us. While we do not stop encouraging our children not to become the generation that is always in front of a screen, but to go out, to play, to run, to share real experiences, as we did, we make sure they have the right supplies to do all this safely and of course with our supervision.
3. Traffic Education through Plays
The one and only "Attikoulis" returns on new adventures; the 6th script renewal is a fact. For 15 years now, approximately 63,000 children have had the opportunity to enjoy a two-hour theatrical play full of Traffic Education Lessons.
"Attikoulis in the kingdom of Clumsiness"


In the new script "Attikoulis in the kingdom of Clumsiness", the protagonist introduces us to his friend Kallidromos, who is an "employee of Attiki Odos, a large and bright road that all cars pass safely! ". And as our protagonist mentions "This is where I get my name. Everyone there is my friend and that is why they gave me this name…"Attikoulis"!". In their fascinating course, Attikoulis and Xotikios Kalomagos meet lovable heroes, and each time, they add the necessary "supplies" in their luggage to help them reach their destination: first the word "respect", which they should never forget, while a little further, "patience", then "protection", and of course, "knowledge". This is a successful educational show that has been created exclusively for Attiki Odos and is addressed to children of preschool and school age.

Screenplay: Irini F. Koutsaftis